EVENT PHOTOS RED KETTLE CHALLENGE AWARDS TABLE CAPTAINS SPONSORS SPECIAL GUESTS ANNUAL REPORT DONATE NOW
Thank you for your support!
Thank you for supporting The Salvation Army's annual Red Kettle Luncheon! We are so pleased to see so many individuals eager to help those in need right here in King County.
Thank you to everyone who attended, and thank you to our special guest Mark Wright for being our emcee again this year, and to all of the clients who shared their stories of overcoming incredible obstacles with the help of The Salvation Army and our generous supporters.
Thanks to your generosity, we raised over $320,000 - all gifts will go to work immediately serving local needs.
Right here in King County, The Salvation Army helps provide shelter, food, youth programs, domestic violence aid, disaster relief and addiction recovery, and we can't do it without you. If you were unable to attend our luncheon, please consider a donation and remember all gifts of $300 or more will be matched.
For event highlights, click HERE for photos or follow us on social media:
Thank you for being a part of this important event. Your support allows The Salvation Army to continue its life-saving work in the community.

Thank you to our Red Kettle Challenge sponsors
Richard Bressler
Darrell & Crystal Davis
Stella DeYoung
The Gehlen Foundation
Jill Hashimoto
Steve & Alice Higgs
Mike & Kathy Holmgren
Judy & Mike Johnson
John & Polly Lindberg
Sam & Carola Nichols
Tom & Sally Peyree
Scott Phillips
Lee & Sue Stiles
AWARD RECIPIENTS
The "Arthur S Langlie" Award
The Arthur S. Langlie Award is presented annually to an individual, foundation, or corporation, to recognize visionary leadership and selfless service to others. Established in 2002, the award is a tribute to Arthur S. Langlie and his 40 years of leadership and service to The Salvation Army. Today, his family honors his legacy with an award in his name to acknowledge others for dedication to the community.
Congratulations to our 2018 "Arthur S. Langlie" Award Winner, Tom Walker!
Past Recipients
| | | | |
| --- | --- | --- | --- |
| 2017 | Donald A Lockwood | 2009 | The Aven Foundation |
| 2016 | Phyllis Campbell | 2008 | The Norcliffe Foundation |
| 2015 | Russel Wilson | 2008 | The Seattle Times, Fund for the Needy |
| 2014 | Fred Meyer & QFC | 2006 | Kathy Holmgren |
| 2013 | Bill Helsell | 2005 | The Windermere Foundation |
| 2012 | Trident Seafood | 2004 | Herb Mead |
| 2011 | Jackie & Pierre Gehlen | 2003 | Lee Stiles |
| 2010 | Bill & Melinda Gates Foundation | 2002 | Jane Langlie |
The "Others" Award
The "Others" award is The Salvation Army's highest civilian award in the United States, given to an individual or organization who has demonstrated exceptional community involvement and outstanding service for and on behalf of The Salvation Army.
Congratulations to our 2018 "Others" Award Winner, Todd Stiller & CenturyLink!
Past Recipients
2014
Judi Jacobsen and Family
1980
Rev. Dr. Dale E. Turner
2013
Bartell's
1978
Dr. Robert H. Williams
2012
David Kraft
1977
Stan & Barbara Boreson
2011
Jean Renny
1976
Jess L. Brohamer
2010
Aerospace Machinists Union Industrial District Lodge 751
1975
Mrs. Frances Penrose Owen
2008
Art K. Langlie
1973
James R. Ellis
1995
The Boeing Company
1972
Harry L. Carr
1994
Jack L. Link
1971
Mrs. Emmy Schmitz Hartman
1993
Tom & Dixie Porter
1970
Dr. Richard E. Fuller
1991
Puget Sound Power and Light; Washington Natural Gas
1969
Lawrence M. Arnold
1989
Robert D. Ladd
1968
Dr. John Lindberg
1988
John A. Cherberg
1967
F. Richard McAbee
1986
Edward E. Carlson
1966
Royal Broughman
1985
Seattle Times & its readers
1965
Roscoe C. Torrance
1984
Marv Harshman
1964
Boeing Employees Good Neighbors
1983
Rabbi Raphael Levine
1963
Harold Shefelmen
1981
William Bain, Sr.
1962
Wallace H. Campbell
 
 
 
 
 
 
 
 
 
 
 
 
 
 

 
 
 
Thank you to our table captains
Greg Asimakaupoulos
Sara Beksinski
Brian Betz
CenturyLink
Crystal Clarity
Steve Clark
Willa & Bernie Conrad
John Mike/John Diaz
Majors Bill & Lisa Dickinson
Foss Family Foundation/Judy Foss
Fred Meyer
Frey Buck P.S./Ted & Lisa Buck
Mark Gropper
IAM District 759/Rich McCabe
Jill Hashimoto
Jim Hinchcliffe
Holmes Electric/Art Langlie
Judy Johnson
Dr. John Lindberg
Polly Lindberg
Dave Miller
Scott Phillips
Mike Poth/Cheryl Pleas
Puget Sound Energy/Rachelle Dillard
RSM US LLP/Corey Saunders
Tim Searing
Solin Simon
Sinclair Broadcast Group/Paula Lamas & John Carlson
Jeff Snell
Lee Stiles
Tatley-Grund, Inc./Stace Grund
Tatley-Grund, Inc./Troy Jacobson
Tatley-Grund, Inc./Mike Spadafora
Tatley-Grund, Inc./Dwight Young
Umpqua Bank/Joe Gong
University Mechanical Contractors, Inc.
USI Insurance Services/Aaron Cahoon
The Walsh Group
Joleen Zanuzoski
Thank you to our generous sponsors
---
---
---
Bartell Drugs • The Biella Foundation • Coastal Transportation, Inc. • Foss Family Foundation • Frey Buck P.S. • Park 'N' Fly • QuoteWizard • University Mechanical Contractors, Inc.
---
IAM District 751 • CenturyLink • Holmes Electric • Pape Material Handling • Puget Sound Energy • RSM US LLP • Shelter Holdings LLC • Sinclair Broadcast Group • Trident Seafoods Corporation • Umpqua Bank • USI Insurance Services • The Walsh Group
Thank you to our special guests

Mark Wright, KING 5
PATRICIA - After moving from Chicago to Washington with nothing in their possession, Patricia and her family soon found themselves in need of assistance. Through the help of her neighbor she found The Salvation Army where she received food, diapers and Christmas assistance.
DAVID - David's life would look very different if it weren't for The Salvation Army. Throughout his childhood he attended The Salvation Army after-school programs, played on sports leagues and went to camp in the summers. Today, he considers The Salvation Army a second home and he now works with children in The Salvation Army after-school program.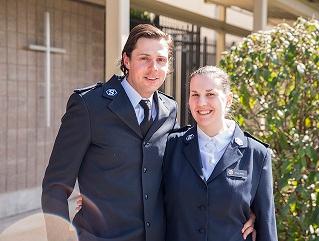 JONATHAN - Jonathan came to The Salvation Army at a young age when his family became homeless. After being discharged from the military, he became addicted to drugs and alcohol and wound up spending time in prison. Now, through the help of The Salvation Army, he has a job, a home, and restored faith in God.
TAAISHA - Taaisha suffered from postpartum depression after the birth of her daughter and began to use drugs and alcohol to cope. She lost her job as a nurse, lost custody of her daughter and became homeless. After graduating from The Salvation Army's Adult Rehabilitation center, she is now sober, off the streets, working, and re-establishing a relationship with her daughter.
DONATE NOW
Please consider making a donation to support our Red Kettle Luncheon. If you were unable to attend the event, or simply want to support important programs here in King County, please donate online or by mail.
Online: To make a donation online with a credit card via our secure donation form, click HERE.
Mail: If you want to mail a check, please send it to:
The Salvation Army
Attn: Lisa Borders
Northwest Divisional Headquarters
111 Queen Anne Avenue N #300 Seattle, WA 98109
Please be sure to write "Red Kettle Luncheon" in the notes section of your check.
Questions? Please contact Lisa Borders at The Salvation Army
Lisa.Borders@usw.salvationarmy.org
206.217.1267
The Salvation Army is a 501 (c)(3) organization. Tax ID # 94-1156347